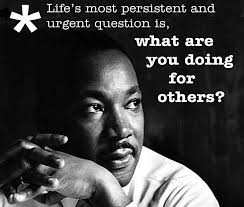 In honor of Martin Luther King Jr. Day on Monday, we ask you all this week, "What are you doing for others?" Dr. King asked an audience in Montgomery, Alabama this same question in 1957, and we think it is worthwhile to ponder the same question daily.

Welcome Back from Winter Break, Westgate Families! We missed you!
We are extremely excited for the Spring Semester. We have so much going on K-12. Check out this part of the website for updates and for weekly inspiration!
.