Peer Mentoring and Peer Mediation at Westgate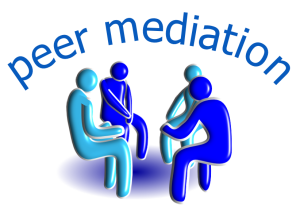 Westgate has been expanding its Social Emotional support programming over the last couple of years. We are especially proud of the success of our new Peer Mentor Program which began last Spring.
For the 2017-2018 school year, a group of High School students were interviewed, selected, and trained to mentor students/peers on an individual basis as well as support conflict resolution K-12. This program is intended to provide support for students K-12 to manage stress, recognize signs of unhealthy behavior, learn coping strategies, and resolve conflict. Any student that is referred to the program will have the option to participate, and parents will be notified and given an option to opt out as well. Mrs. Novak or Ms. Washington will always be present in mediation or mentoring sessions.